By Ken Balcomb, Founder and Senior Scientist, Center for Whale Research
"My first acquaintance with the Southern Resident killer whale (SRKW) we designated L41 was in 1977, the year after we began the annual Orca Survey of this population that continues to this day. His mother was L11, who was one of nine females to produce new babies that year following the cessation of captures in 1976. We watched the energetic young male baby as he grew up, and we had great hopes that he and his companions would fill in the youthful cohorts of the population that had been decimated by captures between the mid-1960s and mid-1970s.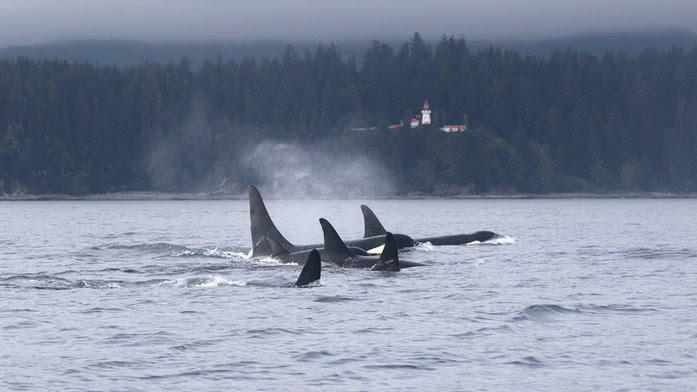 L41 last seen by the Center for Whale Research on August 11, 2019 (Encounter #51). Photo by Mark Malleson, Center for Whale Research
L41, with an adoption name Mega, traveled with his mom and sisters in a subgroup of L pod that became known as the L12s, named after his presumed grandmother, who was the likely mother of L11. It should be noted that the alpha-numeric designations are not in the birth order sequence in the early years of the Orca Survey – because nobody knew the population composition prior to our study. The whales were numbered in those early years in the order that they were first seen, and it was only after we had all of them identified in 1976 that subsequent new babies received the next sequential alpha-numeric designation for identification. L41 was among the first to receive a designation that identified him as a member of the new known-age youth cohort of the SRKW population.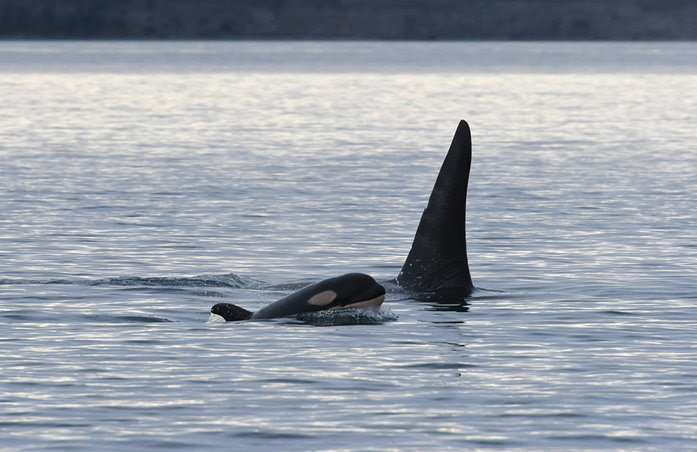 L41 with L124 on January 11, 2019 (Encounter #2). Photo by Dave Ellifrit, Center for Whale Research.
When he reached social maturity in his early twenties around 1997, L41 began to father babies. And, he became the champion male breeder in the SRKW population with fourteen known offspring that survive to this day in all three pods. Only J1, with the fathering of eleven living offspring in the SRKW community, has done as much to increase the population. A very few other males have contributed one or two offspring in this population.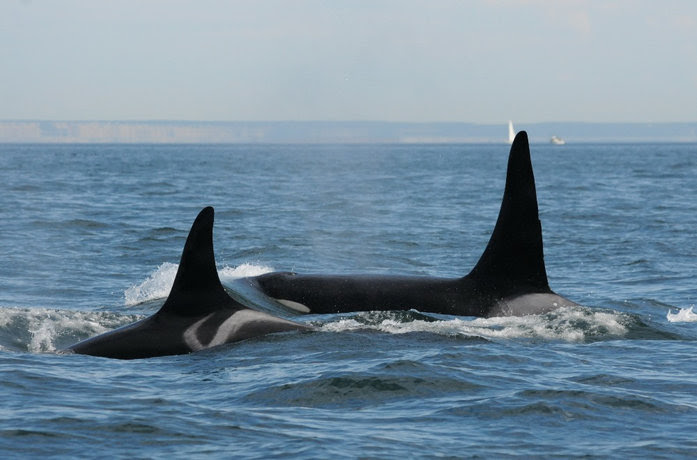 L41 with L25. Photo by Dave Ellifrit, Center for Whale Research.
We will greatly miss L41 as an important breeder and as a prominent indicator of the L12 subgroup that now rarely ventures into the Salish Sea. In 2019, we only saw the L12s twice – once on January 11 in the eastern Strait of Juan de Fuca, and once on August 11 off Carmanah Point Lighthouse on the southwest coast of Vancouver Island. It will be extremely difficult to monitor the demographic vigor of the L12s if they do not come into the study area, and if this indicator male is not present. We are hopeful that L41 is alive somewhere and returns to the subgroup, but he did live to a ripe old age and fathered more baby whales than any other whale in the community.
He had a good life.

Unidentified orca.                                                                                                 Photo credit – Dale Mitchell, Eagle Wind Tours